Sucrose
What is sucrose?
Sucrose or saccharose is a disaccharide composed of glucose and fructose [1]. Sucrose is a chemical name for table sugar, which can appear as white (purified) or brown sugar.
Nutrition Facts:
Calories per gram = 3.9 (1 tsp, 4 g = 16 Cal)
Glycemic index (GI) = 58-84
Sweetness: more sweet than glucose but less than fructose
Net carbs = 100%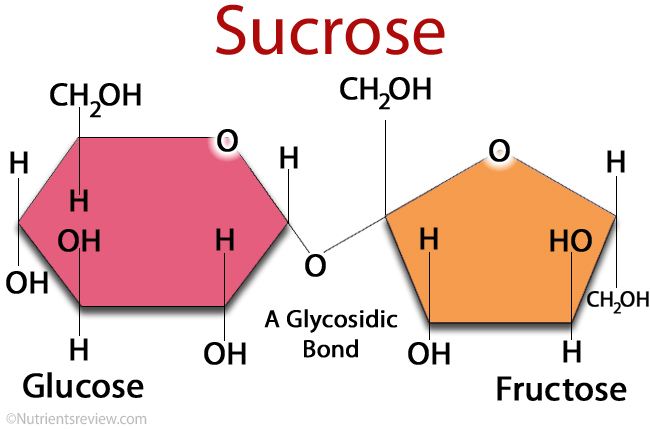 Picture 1. Sucrose structure: glucose + fructose
Sucrose Function
Sucrose is a source of energy. It can provide 3.9 kilocalories per gram of energy [2,3]. Sucrose is not an essential nutrient, which means you do not need to consume it to be healthy [4].
Hypoglycemia. If glucose is not available, sucrose by mouth can be used to treat hypoglycemia. In one 2010 study in children with diabetes 1, oral sucrose was as effective as glucose in treatment of hypoglycemia [30].
Sucrose Sources
Foods high in sucrose include certain sweeteners (table sugar, raw sugar–turbinado, muscovado, demerara–, molasses, sorghum syrup, pancake syrup), sweets, desserts, fruits, jams, sweetened beverages, canned foods and chewing gum. Certain medicinal and multivitamin/mineral syrups contain sucrose.
Sucrose Production
Sucrose can be extracted from sugar cane, sugar beets, date palm, sweet sorghum or sugar maple tree [21].
Chart 1. List of Foods High in Sucrose

FOOD (serving)
SUCROSE (grams)
Mango chutney (1 cup, 250 g)
76
Lingon berry juice (12 oz, 355 mL)
37
Tonic water (12 oz, 355 mL)
32
Pie, fruit, baked (1 piece, 4.8 oz, 135 g)
29
Fondant (1 oz, 28 g)
27
Ice tea (12 oz, 355 mL)
27
Nougat candies with almonds, hard candies (1 oz, 28 g)
19-23
Coffee liqueur (2.5 oz, 75 mL)
22
Root beer (12 oz, 355 mL)
20
Cake, chocolate (1 piece, 65 g)
20
Caramel (1 oz, 28 g) [7]
9-20
Ice cream, pudding chocolate, soft (1 cone, 3.5 oz, 100 g)
17
Pudding, chocolate (4 oz, 110 g)
17
Shake (1 cup, 240 mL)
17
Fudge, chocolate (1 oz, 28 g)
16
Pickled cucumbers (2 oz, 57 g)
16
Table sugar, white sugar (1 tbsp, 15 g)
15
Shortbread (2 oz, 57 g)
15
Coconut cream, sweetened (1 oz, 28 g)
14
Fresh fruits (1 cup): mandarins, mango, papaya; rowal (1/2 cup)
11-14
Syrups (1 tbsp, 20 g): liquid sucrose , maple
13
Cider, certain varieties (12 oz, 355 mL)
13
Yogurt, berry (5.3 oz, 150 g)
13
Dates, deglet noor (2 oz, 57 g)
13
Ready-to-eat cereals, dry (30 g)
Up to 13
Milk chocolate (1 oz, 28 g)
12
Chocolate milk (1 cup, 240 mL)
12
Brown sugar (1 tsp, 4 g)
4
Sweets: carob, jelly candies, liquorice, marzipan paste, toffee, (1 oz, 28 g); meringue (17″ oz, 14 g)
8-12
Energy drink (4 fl. oz, 120 mL)
11
Strawberry jam (1 tbsp, 20 g)
10
Ice lolly (3.5 oz, 100 g)
10
Tiramisu (2 oz, 57 g)
10
Fresh fruits (1 medium or 1 cup-237 mL): apricot, banana, grapefruit, jackfruit, melon (cantaloupe), nectarines, peach, pineapple
7-10
Orange juice (1 cup, 240 mL)
10
Irish coffee (5 fl. oz, 150 mL)
8
Syrups (1 tbsp, 20 g): blackstrap molasses (black treacle), light molasses (golden syrup), sorghum
6-8
Ginger ale (12 oz, 355 mL)
7
Fresh fruits (1 medium or 1 cup-237 mL): apple, clementine, melon (honeydew), orange
4-6
Vegetables: sweet potatoes (1 cup, mashed, 200 g), beetroot (1/2 cup, slices, 85 g)
6
Baked beans (1/2 cup, 125 g)
6
Fondant (1 oz, 28 g) [6]
4-6
Mead (1 jigger, 1.5 oz, 45 mL)
5
Granola bar (1 oz, 28 g)
5
Nuts (1 oz, 28 g): almonds, cashews, macadamia, peanuts, pistachio
1-2
Apple juice (12 oz, 355 mL)
4.5
Green peas, beans, soybean, sweet corn, cooked (1/2 cup, 80-100 g)
2-4
Sweet vermouth (2.5 oz, 75 mL)
3
Plums, watermelon (1 cup, 160 g); persimmon (2″ dia, 170 g)
3
Salad dressing, French (2 oz, 57 g)
3
Applesauce (1 cup, 245 g)
3
Crackers (1 cup, crushed, 50 g)
3
Carrots, frozen, boiled (1/2 cup, 70 g)
2.5
Pancake syrup (1 tbsp, 20 g)
2.5
Chewing gum (1 stick, 3 g)
2
Infant formula (1 fl. oz, 30 mL)
1
Chart 1 source: [5]
Sucrose Digestion
In the stomach, gastric acid might partly break down sucrose to glucose and fructose [8-p.396]. On the surface of the small intestinal wall, the enzyme sucrase breaks down sucrose to glucose and fructose, which are absorbed [9].
Sucrose Tolerance (Laxation Threshold)
The laxation threshold for sucrose in a single meal in healthy  individuals is probably more than 1.2 g/kg of body weight or more than 85 grams by a 154 lbs (70 kg) person [10]. In one study, ingestion of 100 grams of glucose triggered no symptoms in any of 10 healthy adult participants [11].
Individuals with celiac disease can have decreased activity of the enzyme sucrase and thus a decreased ability to digest sucrose [13], which may contribute to abdominal bloating and diarrhea.
Drugs that May Reduce Sucrose Digestion
Drugs that may inhibit sucrose digestion but more studies are warranted:
L-arabinose. In one study, an ingestion of a sucrose drink (75 g in 300 mL) with added arabinose (1.5-4%) resulted in lower blood glucose levels than sucrose drink alone [14].
Acarbose [31,32] and guar gum. In one study, an ingestion of acarbose (100 mg) or guar gum (20 g) before ingestion of sucrose solution resulted in lower blood glucose spikes than ingestion of sucrose solution alone [15].
Congenital Sucrase-Isomaltase Deficiency (CSID) or Congenital Sucrose Intolerance
Individuals with a congenital sucrase-isomaltase deficiency (CSID) or congenital sucrose intolerance cannot efficiently digest sucrose, maltose, isomaltose, isomalt, maltotriose, maltodextrins, dextrins and starch due to lack of the enzyme sucrase-isomaltase [16,17,19]. Undigested sucrose and starch pass to the large intestine, where they are fermented by normal colonic bacteria to gases [20].
The disorder is more common in Greenland, Iceland, Alaska and Canada; there are also some known cases in the Northern and Eastern Europe, Russia, Turkey, areas around the Black Sea, Australia and New Zealand [16,20]. Symptoms start to appear in small children after introducing starchy foods and may include abdominal cramps, bloating, flatulence and watery diarrhea after ingestion of certain carbohydrate foods [16]. Symptoms can be prevented by avoiding foods containing sucrose and certain starches [16]. Supplemental enzymes (sacrosidase) that help to digest sucrose are available [16]. Parents of the affected children may also have somewhat reduced digestion of sucrose and starch [16].
Theoretically, the digestion of sucrose and subsequent absorption of glucose and fructose could be also impaired in viral gastroenteritis (stomach flu), small intestinal bacterial overgrowth (SIBO), celiac disease, Crohn's disease, tropical sprue, intestinal lymphoma, cystic fibrosis, after gastric surgery (dumping syndrome) or in severe diarrhea of any cause, but there is lack of studies to confirm this.
Sucrose Safety: Dangers and Side Effects
Sucrose as a food additive is Generally Recognized As Safe (GRAS) by the US Food and Drug Administration (FDA) [22].
Insufficient evidence about other harmful effects of sucrose. In various studies, high consumption of sucrose-sweetened soft drinks was associated, but not cause-effect related, with abdominal obesity, metabolic syndrome, high triglyceride and total cholesterol levels and cardiovascular disorders [25,51]. It is not high intake of sucrose or sugars alone but high calorie intake that can increase weight [6,41]. It also seems it is the consumption of total carbohydrates greater than 60% of daily calories and not consumption of sucrose by itself that increases blood triglyceride levels [18,29].
There is insufficient evidence about sucrose as a risk factor for heart disease [18].
Who needs to avoid sucrose?
Individuals with the following conditions:
Hereditary fructose intolerance (HFI) [26]
Sucrase-isomaltase deficiency (CSID) [16]
GLUT1 deficiency syndrome [35]
Glucose-galactose malabsorption [34]
Individuals with the following conditions may also benefit from avoiding sucrose: diabetes 1 and 2, hyperglycemia, reactive hypoglycemia, postprandial hypotension [33], epilepsy, fructose malabsorption, small intestinal bacterial overgrowth (SIBO), irritable bowel syndrome (IBS).
The Effect of Sucrose on Blood Glucose and Triglyceride Levels and Diabetes
According to the US Food and Drug Administration (FDA), there is no plausible evidence that sucrose, except as it is a non-specific source of excessive calories, is related to diabetes mellitus [18]. In several studies in individuals with diabetes mellitus 1 or 2, adding sucrose to meals for several weeks did increase blood glucose or cholesterol levels [24,27].
Dietary sucrose has a medium to high glycemic index (GI = 58-84; average 68) [28,8-p.9].
Sucrose and Cooking
Sucrose is commercially available as sugar, table sugar, granulated sugar, confectioner's sugar, cane sugar, beet sugar, white sugar, brown sugar, raw sugar (demerara, muscovado, turbinado), rock candy, liquid sucrose (sucrose syrup).
Physical Properties
A white, crystalline substance with a pleasant syrupy flavor and sweet taste [36]; it is more sweet than glucose and less sweet than fructose [38].
Low hygroscopicity – at 60% relative humidity it absorbs only 0.04% water [36,39-p.86].
Solubility in water at 77 °F (25° C) = 205 g/100 mL and at at 100° C about 480 g/100 mL [40,42,43-p.107;8-p.327]; poorly soluble in ethanol [44].
Melting point is 320-378° F (160-192° C); melting point rises with the rate of heating [45,50].
The decomposition of sucrose to glucose and fructose can start at 302° F (150° C) [50]. Dry sucrose in a neutral environment (pH ~7) is pretty stable at temperatures below the melting point [46-p.56].
Sucrose is a non-reducing sugar [47], but it can take part in the Maillard browning reaction because it can partially break to glucose and fructose during cooking [48].
Caramelization of sucrose starts at 160° C (320° F) [49].
Related Nutrients